Abbazia di Crapolla
Abbazia di Crapolla
Region: Campania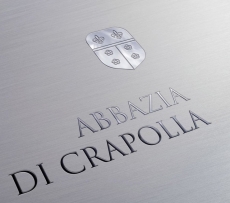 The Place, The History, The Company
Sorrento Peninsula, Lattari Mountains: where centuries ago Benedictine monks built a Grancia (literally "granary") that is a farm belonging, within a day's walk, to the Abbey of Crapolla, whose remains worn by time can still be glimpsed today edges of the homonymous fjord, Fulvio Alifano, doctor, and Peppe Puttini, sailor-entrepreneur (with his adventure companions Piera and Arianna), passionate about the place and the vivifying pleasure of great wines, in 2008 planted 10,000 new vines on a plain of calcareous disintegration sand and lapilli deriving from the eruptions of Vesuvius.
We are halfway between sky and sea: at 300 meters above sea level, on one of the most famous gulfs in the world, on the slopes of Mount Faito and with Vesuvius behind us, the volcano par excellence: here Fiano, Falnghina, grapes Sabato ( autochthonous on a flat foot), Moscato and incredibly, Pinot Noir, according to an intuition of Arturo Erbaggio collaborator in the vineyard and in the cellar, are grown in espalier with Guyot pruning.
The two hectares of vineyards with a density of 8000 vines / ha enjoy an absolutely unrepeatable terroir elsewhere: altitude, irradiation and marine influence here give the soils a perfect controlled humidity, allowing slower maturation processes for Fiano and Falanghina than the corresponding "cousins" grown in Irpinia; hence the remarkable acidity, the mineral hints and the fruity preciousness that have become the trademark of the Abbey of Crapolla, whose concept, linked to the small size of the company, makes use of meticulous attention in every phase of the entirely managed supply chain. State-of-the-art technology has entered where it has been possible, given the structure of the places: speaking here of "heroic" wine art is therefore not ... out of place.
Product list