San Marzano Vini
San Marzano Vini
Region: Puglia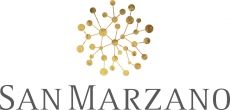 History:
1962: THE FOUNDING FATHERS
San Marzano is a small village in the centre of the Primitivo di Manduria DOC region, a strip of land kissed by the two seas of the Salento: the Ionian and the Adriatic. In 1962 the DOC appellation did not yet exist, and the Primitivo di Manduria was far from becoming a cult wine for wine lovers. Even so, 19 winemakers came together to follow a dream and founded Cantine San Marzano.
1982: Francesco Cavallo was appointed Chairman of the board of directors. A fiery and visionary figure, he continues to make plans for the future, while overseeing the present of our winery. He has uninterruptedly been the true helmsman of our company.
1996: THE FIRST BOTTLES
At last, the first bottles came out of the cellar, thanks to a modern bottling plant financed by the members of the Cantine. This purchase marked the transition from commodity to brand, from the economics of bulk to the direct relationship with the end consumer.
2000: SESSANTANNI
"... To make a wine just like the one our fathers did and make it original and contemporary ..." This is the goal we set out to achieve with Sessantanni Primitivo di Manduria DOP, one of the iconic labels of the company, which embodies the essence of the San Marzano philosophy. A wine that tells of the spirit of local viticulture, the best expression of the millennia-old love of our people for the Primitive grapes of this land; and that has become a new "classic", the original and the internationally most loved and imitated example of a new way of making wine.
2015: MASSERIA SAMIA
"... The best grape is the one we have not yet harvested ... " A stone's throw from the Ionian Sea, Masseria Samia is a place of work and stories. As it is often the case when it comes to a project of Cantine San Marzano, this masseria is the keeper of many contents, both finite and infinite: it is a typical 16th century Ionian coast farmhouse, which has been carefully and respectfully restored; it is a sustainable vineyard, dedicated to research into lesser-known clones of well-known indigenous vines and into almost forgotten ones. It will be our house open to our guests and friends, and the ideal place for telling our story through courses and divulging knowledge about wine and cookery. It will be a Mediterranean garden surrounded by silence, where paths criss-cross among the trees, flowers and herbs of our Mediterranean flora. And, not least, it is the place where, through stories, we will share our idea of wine and beauty.
Product list