Salvatore Molettieri
Salvatore Molettieri
Region: Campania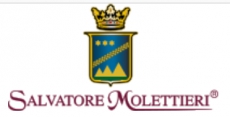 Irpinia Excellence in the world
Telling Salvatore Molettieri and her company is finding out the thread and sense of a territorial identity that keeps alive alive and slowly matures wholesome fruits. Like the alanic, this grape has now entered the winemaking legend of Campania, from whose grapes Salvatore obtains wines that rightly, according to experts, wish to become a comparison term of the reds of Irpinia.
History: a success over thirty years
The Azienda Vitivinicola Salvatore Molettieri was established in 1983, giving an entrepreneurial dignity to a farming, viticultural and wine making tradition that goes back intime for at least four generations. The work in the ancient family vineyards and thirty years of experience at the estate are part of the knowledge of Salvatore, vigneron and wine maker and, thanks to this, the estate now has an important position on the national and international markets. The vineyards extend for 13 hectares and they stand at 500-600 meters above sea level on the hills of Montemarano, one of the seventeen small towns which are part of the Taurasi DOCG appellation. This area, the soils of which are clayey-calcareous, has an excellent exposure and it is ideal for viticulture and wine making and in particular for the production of Irpinia DOC Aglianico, Irpinia DOC Campi Taurasini, Irpinia DOC Rosso, Taurasi e Taurasi Riserva DOCG and for the production of the white wines Fiano di Avellino DOCG and Greco di Tufo DOCG.
Philosophy: Care and Love for the Earth
Quality is the word that defines the business philosophy, and at the same time it represents the goal to which the company is aiming, also making its distinctive character. Minor quantities of grapes produced for the benefit of a high quality, of which Salvatore and his four children are never satisfied.
Careful attention to vineyards, with the continuous improvement of breeding techniques, to a usually late harvest, as in the best tradition of irrigation production of Taurasi, still manually carried out using harvesting cassettes, alongside modern vinification techniques such as pig-smelling Soft and the use of state-of-the-art technologies such as maceration in controlled temperature steel tanks. Strict controls to maintain high quality standards are carried out on all stages of production and aging.
In the world: from Montemarano to Japan
On the regional and Italian market, the Salvatore Molettieri wine-producing company is now well positioned and its labels evoke full-bodied, well-balanced, well-balanced wines with vintages that touch on top of the line. It is present in the wines chosen by the Enoteca d'Italia in Siena. The international market has also appreciated and continues to demand the irpinia wines of Salvatore Molettieri, with significant presence in the USA, Japan, England, along with Russia, China, Poland, Germany, Belgium, Denmark, Norway, Brazil, Puerto Rico, Australia.
Product list