Maresca Caffè Piano di Sorrento
Maresca Caffè Piano di Sorrento
Region: Campania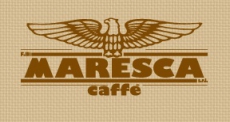 Coffee Roasting Maresca caffè srl is a company that operates mainly in the area of Sorrento since the beginning of 1900. It is considered among the leading coffee roasters in the region Campania, south of Italy, in the production of coffee, with coffee beans, minced and coffee pods as main products.
The company offers a wide range of products to an important and continuously demanding clientele who provide an excellent product with best possible quality / price ratio.
That's the reason why the main objective remains to ensure high quality products through careful selection of the finest green coffee beans.
Coffee Roasting Maresca caffè srl provides constant attention to all stages of the production process, which means combining the craftsmanship of the production with an innovative packaging system, in order to preserve the taste and freshness of coffee.
Product list