Villa Ascenti Gin
Villa Ascenti Gin
Region: Piemonte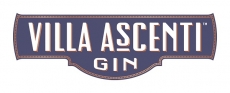 The new €420,000 (£360,000) distillery has been built on the site of our brand home, Villa Ascenti, in Santa Vittoria and has seen the refurbishment of a Frilli copper pot still from the 1970s. Steeped in Italian provenance, Villa Ascenti celebrates the excellence of the region in local ingredients and expertise.
Our Master Distiller, Lorenzo Rosso is a trained winemaker and distiller born and bred in the Piemonte region and has over 20 years' experience with Diageo. Lorenzo will work with local producers and farmers in the community in Italy's northwest Piemonte region, to source local ingredients for Villa Ascenti Gin. These include Moscato grapes, fresh mint and thyme with the herbs distilled within hours of harvest.
Moscato grapes, a signature taste of the region, are harvested in August and September when the fruit is at its best, before undergoing three distillations. During the final distillation, Moscato grapes are infused with Tuscan juniper berries in the distillery's newly refurbished Frilli copper pot still. The resulting liquid embodies the classic flavour of gin, whilst capturing the taste of the brand's homeland in Piemonte, to deliver a harmonious liquid with a fresh and light taste.
Product list