A.E.DOR Cognac
A.E.DOR Cognac
Region: France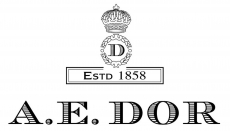 In 1858, Amédée-Edouard DOR, scion of an old Cognac family, embarked upon the unusual and painstaking task that was to occupy the whole of his life.
His passion was for Cognacs of noble distinction. With dogged determination, he hunted, selected and collected the finest Cognacs.
After decades (70 years and more) of ageing in oak casks, free from mixture or admixture, some of these venerable cognacs from the Grande Champagne area – whence the best Cognacs come – were carefully decanted, once their aroma had reached its fullest ripeness, into wax-sealed demijohns, where they could be preserved and conserved intact.
Today, these glass vessels hold the precious nectars hostage there where they slumber in a secret cellar known as "Paradise", where nothing has changed since its creation, and where they proudly display their prestigious vintages.
The pride of our firm, an incomparable heritage of vintage cognacs dating generally from before the time when the dreaded phylloxera struck in 1874, they have kept their precious contents intact for more than a century and a half, and justified the standard of our worldwide renown.
They are the heart of Cognac A.E.DOR.
Product list