Poliziano
Poliziano
Region: Tuscany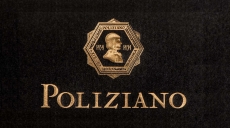 THE BEGINNING: Poliziano began in 1961 when Dino Carletti, moved by a romantic and passionate vision for his native land, acquired the first parcel of 22 hectares.
The estate has grown over the years to 170 hectares of vineyards. Poliziano's name is a tribute to the humanist poet Angelo Ambrogini (1454-1494), nicknamed "Poliziano"
PROFESSIONALISM: Federico Carletti, son of Dino, after completing his studies in agriculture, took over the management of Poliziano in 1980. He immediately made his mark and reached a philosophical turning point by studying and working exclusively with proprietary grapes ("Estate Winery"). With a concentration on quality viticulture, innovative yet respectful of the environment and tradition, it is possible to achieve from the high density planting of vines, a Vino Nobile of great body and great quality.
QUALITY: Federico in pursuing quality and excellence in his wines has continually improved techniques both in the vineyards and in the cellar. In the 1990s, international varieties were planted, but at the same time the local variety par excellence, Sangiovese, which in the territory of Montepulciano is known as "Prugnolo Gentile," was studied and enhanced..
PRESENT AND FUTURE: Firm in his belief of the potentiality of the territory of Montepulciano, Federico, for almost twenty years, has concentrated on coaxing the highest expression of this territory from his wines; allowing them to express both its tradition and authenticity. To this end he has dedicated himself to the production of "cru" of great renown.
THIRD GENERATION: The family passion for wine and the territory continues with Francesco and Maria Stella, who to date function as essential advisors to Federico, ready to interpret and face both current and future challenges.
Product list