Casa D'Ambra Vini d'Ischia
Casa D'Ambra Vini d'Ischia
Region: Campania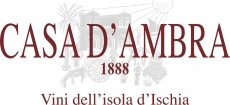 The winery was founded by Francesco D'Ambra, alias Don Ciccio. He was born in 1863 into a local grape and wine- producing family. He showed his interest in wine selling since a young age. At the turn of the century the island's wine was already known and much appreciated on Naples market. Business flourished; he bought the old Villa Garavini and cherished the idea that the time had come to move into a lar- ger building. Business continued to expand and the winery began to export. At that time over 250,000 hl wine were produced.
After his death in 1952, his sons Riccardo, Andrea and Corrado took over. This was the beginning of a new era: they first founded a new company called D'Ambra Vini d'Ischia Spa and then made it a model cellar by introducing some major technological changes. Great wines were produced from Biancolella, Forastera and Per''e Palummo grapes; new vineyards were purchased in Ischia's most renowned grape-producing areas to grow only local varieties; a new winery was built in Panza, one of the top wine-producing region. In 1984 Mario D'Ambra became the sole owner of the company. Through hard work he managed to regain old markets and open new ones on a national and international level. Upon his death he was succeeded by his grandchildren Riccardo, Andrea and Corrado who introduced stricter criteria of grape variety selection in order to produce the finest wines.
Since 2000 the enologist Andrea D'Ambra, the youngest of Mario's grandchildren, is the owner and manager of the winery: he is very proud to carry on the family tradition of winemaking that was started by his grand-grandfather Francesco in 1888 and is still alive after so many years.
The vineyards
Casa D'Ambra purchases every year 5,000 tonnes of grapes by 150 local vine producers. The winery estates include 4 hectares of vineyard in the Frassitelli area, another hectare in the Montecorvo area, 7 hectares in Calitto and also a small 6 ha vineyard whose ownership is shared with other grape producers.
The winery's activities are focused mainly on exploi- tation and expansion of local grapes, namely Biancolella, Forastera, and Rilla white varieties, and Piedirosso and Guarnaccia red varieties. Furthermore in 1995 a test field was es- tablished in the Frassitelli area in an effort to create a genetic bank to improve the grape quality and to upgrade and protect old varieties. Grape varieties including Guarnaccia and Guarnaccello, Coda Cavallo and Streppa Rossa, Rillottola and Don Lunardo, Catala- nesca, Romana, Procidana and Coglionara have been brought to new life. Vintage takes place between September 20 and October 10: even though grapes mature at different times depending on the vineyard varieties and locations, well balanced wines are produced every year. Grapes are harvested manually and transported in small cases in order not to spoil them. Andrea D'Ambra supervises the whole production process from harvesting through bottling.
Wine
The vinification and ageing processes that are currently carried out by the winery have enhanced D'Ambra wine's most outstanding feature, namely the delicate bouquet with a lingering almond aroma. Upon request of the brothers Mario, Michele and Salvatore, D'Ambra wines have been granted the Registered Desi- gnation of Origin (DOC) since 1966. In more recent times the same protection has been offered to the most renowned Biancolella, Forastera and Per''e Palummo vineyards.
What you have to know about our cellar is the building, where the temperature- controlled cellar is hosted is located in a spectacular natural amphitheatre at the foot of Mount Epomeo. The cellar occupies an area of 3,500 square metres. All production phases take place here: vinification in stainless steel tanks, red wine ageing in small and large barrels, bottling and storage of the final products. The daily production capacity is 80 and 25 tonnes for white and red grapes, respectively. The stainless steel tanks can hold 10.000 hl, the wooden barrels 300 hl. The bottling line has an hourly output of 3,000 bottles.
Product list