J&B Scotch Whisky
J&B Scotch Whisky
Region: Scotland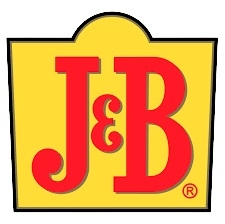 HISTORY: Giacamo Justerini was an Italian master distiller who fell head over heels for an opera singer, Margherita Bellini, and followed her to England. Although his love was unrequited, Margherita did introduce him to Samuel Johnson, who in turn introduced him to his nephew, George Johnson, his future partner. Two generations of Johnsons later, we meet the other initial of J&B: Alfred Brooks. Brooks bought the company from Johnson and renamed it Justerini&Brooks. Brooks then heard about Andrew Usher, a liquor trader from Edinburgh who liked to experiment and who had become the first person to market blended whisky.
THE MIX: Justerini & Brooks asked Usher to create a softer mix for a new type of client, for which he sought the assistance of his partner James Anderson. Together they developed the J&B Club mix, one of the first combinations of Scottish whisky.
FIRST TASTING: Then came Eddie Tatham, a friend of the Anderson family. Eddie was a very charismatic man and he quickly became the manager of the company. In 1930 the creation of J&B Rare was endangered when Eddie, who had accepted several orders from wealthy clients during the Prohibition era in the United States, was arrested in Grand Central Terminal station with a suitcase full of samples.
J&B RARE: Eddie was released on bail and met Charlie Julian, a taster known for his great sense of smell, refined palate and instinct for understanding consumers' likes. Coinciding with the end of Prohibition, they embarked on the process of creating J&B Rare.
J&B TODAY: A story full of coincidences and good moves, involving restlessly creative people. People who left us a legacy destined to be discovered and experimented with forever more. A legacy which today invites us to continue exploring the unexplored and to fascinate us with those coincidences and good moves that led to J&B.
Product list