Château du Breuil
Château du Breuil
Region: France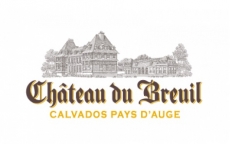 Normandy! A land of picturesque half-timbered houses, lush green pastures and apples orchards. A land of rich culinary tradition based on its fine local products: butter, cream, world famous cheeses and of course…apples ! Classified as a historic monument, the Château du Breuil proudly stands amoung its park with centenarial trees. Built in the 16th and 17th centuries, the Château was the dwelling of the great families, as the Bouquetot, the Montgomery, the Bence…
Today, the "Château du Breuil" is also one of most prestigious Calvados distilleries (created in 1954). It offers to its visitors guided tours as well as tastings of very old Calvados, every day of the year.
The distillation process takes place between the beginning of winter and June 30th of the following year. To make one liter of Calvados 100% pure alcohol, about 27 kg apples or 20 liters of 5% volume cider are necessary.
Unlike Calvados "AOC", Calvados with the AOC "Pays d'Auge" requires cider apples produced in Pays d'Auge area and a double distillation. It makes a finer Calvados, due to the quality of apples produced by the local soil, and to the elimination of the roughiest parts of the alcohol during the distillations.The Château du Breuil makes AOC Pays d'Auge Calvados only.
Les chais
In the cellars, Calvados ages only in oak casks. The Château du Breuil company chooses its barrels carefully, because the kind, size and age play a very important part in the quality of ageing. The subtle exchanges between wood, air and alcohol give Calvados its smooth flavour and bouquet. Each Calvados is different, each cellar master has his own jealously guarded secret. The delicate and perfect tastes of our Calvados depend less on their old age than on the success of its blending, created by Château du Breuil's cellar master.
Product list