Biondi Santi - Tenuta Greppo
Biondi Santi - Tenuta Greppo
Region: Tuscany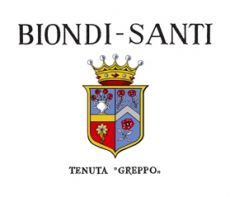 MONTALCINO: A FAMILY, A WINE 150 years of masterly work in the vineyards and in the cellar rewards six generations of skilful winegrowers Because of the geological make-up of its hills and the microclimate of the surroundings Montalcino is one of the oldest and most perfect wine growing regions of Italy. As far back as the XVI century Frà Leandro Alberti said that Montalcino was "famous for the good wines they grow on these delightful hills". However, international fame arrived with Brunello di Montalcino, which was created at the end of the XIX century by Ferruccio Biondi Santi. Building on the experience of his grandfather Clemente Santi, who was an authority in agricultural issues of the Sienese region and a skilful viticulturist, and driven by his own intuition, he selected a particular clone of the Sangiovese grape (the Sangiovese grosso) on his estate "Greppo". These grapes, purely vinified, were the beginning of a new typification of Tuscan wines.
"Greppo" lies on a range of hills in the Southeast of Montalcino at an altitude of about 500 meters and has a soil composition and microclimate particularly suited to the production of ageworthy and perfumed red wines. The size of the vineyards, all dedicated to produce Brunello, is 19 hectares, and they yield grapes of very high quality. The son of Ferruccio, Tancredi, a capable viticulturist and well-known oenologist in his own right, officially typified Brunello, established the foundations for the future appellation system in Italy. He launched the wine on the market and, within about ten years, achieved great commercial success and recognition for his work as a farsighted expert. A true legend of wine was born. The Brunello di Montalcino of "Greppo" is one of the most long-lived wines of the world. After, Tancredi's son Franco Biondi Santi produces about seventy thousand bottles a year. He exports his wine worldwide and keeps in his cellar bottles of Brunello Riserva going back all the way to 1888.
A slow ageing wine, the Brunello Biondi Santi evolves with the passing of the years and develops extraordinary perfumes and flavours while always remaining lively and persistent. Burton Anderson defined the Brunello Biondi Santi as a "wine for meditation": very persistent, giving off delicate perfumes even after the glass is already empty. Very long-lasting perfumes and flavours and of incomparable harmony.
A wine that must be savoured in the right surroundings, at the right temperature and with the proper preparation for serving.
Product list